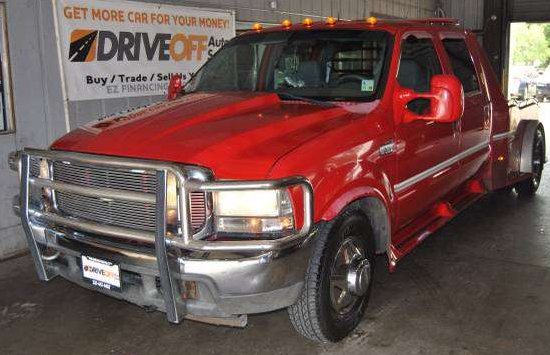 Stock #:1335928147
VIN:1FTWW32FX2EA36957
Year:2002
Make:FORD
Model:F-350 SUPER DUTY
Trim:XL
Color:
Transmission:4-Speed Automatic
Engine:7.3 DI V8 OHV
Interior:
Mieage:238082
Vehicle Type:Used
Contact Information
Drive Off Auto Sales, LLC
102 Carmel
Lafayette
LA
70501
337-447-4457
2002 FORD F-350 SUPER DUTY Options
Base Towing Capacity 9800
Bed Code SHORT
Bed Length 82.4
Curb Weight 6299
Drive Type RWD
Front Tire Type LT215/85R16E
Front Wheel Diameter 16.0 x 6.0
Fuel Tank 1 Capacity (Gallons) 29
Gross Combined Weight Rating 16500
Gross Vehicle Weight Range 10001-14000
Gross Vehicle Weight Rating 11200
Ground Clearance 8.1
Head Room 1st Row 41.4
Head Room 2nd Row/Rear 41
Height 77
Hip Room 1st Row 67.4
Hip Room 2nd Row/Rear 67.4
Leg Room 1st Row 40.7
Leg Room 2nd Row/Rear 41.3
Length 245.8
Max Payload 4900
Max Seating 6
Max. Towing Capacity 13300
Rear axle DRW
Rear Tire Type LT215/85R16E
Rear Wheel Diameter 16.0 x 6.0
Shoulder Room 1st Row 68
Shoulder Room 2nd Row/Rear 68
Standard Seating 6
Tonnage 1
Turning Circle 53.7
Wheelbase 156.2
Width 95.5
2002 FORD F-350 SUPER DUTY Sellers Notes
Ford F350 Lariat Western Hauler - Runs Great and Pulls without effort. A powerful V8, Turbo Diesel, 7.3LFull towing package Goose Neck or a low pull tow ball. Leather Interior, Adjustable gas and brake petals, 2 tanks, back window guard rail, 2 tool boxes, rear air bags to lift the truck, CB radio. CD/DVR. Wood grain and running lights in interior.2007 Quail 3/4 Car Hauler with ramps, Winch, Tool box with fire extinguesher. Goose Neck.For Sale ONLY 16,500 Cash In Lafayette Area . Call Tierra 281-744-1132 or Larry 337-412-1607 at Drive Off Auto Sales or visit Drive Off Auto Sales 102 Carmel Ave, Lafayette,La,70501.